I didn't use to ever watch television but now I do.  It all came about as I started cross-stitching again.  I can say that about 5 of the seven nights a week, I end up watching at least an hour's worth.
Most of what I watch comes from Netflix lately but I did branch out and get PBS and I'm so glad I did.  One of the reasons is that I really wanted to see the movie Elizabeth is Missing.
The show is based on a book of the same name by Emma Healey.  I had read the book some time ago and reviewed it on the blog.  Find that review HERE.  I really enjoyed the book and wanted to see the movie.  I figured if it was a Masterpiece selection and I liked the book, it was bound to be good, and it was.
Here is what Masterpiece said about the show:
"Returning to television for the first time in nearly three decades, two-time Academy Award®–winner Glenda Jackson stars as a woman desperately trying to solve two mysteries as she declines ever deeper into dementia, in Elizabeth Is Missing, an adaptation of Emma Healey's acclaimed novel.
Playing feisty grandmother Maud Horsham, who lives alone despite early-stage Alzheimer's, Jackson is joined by Maggie Steed as Maud's only friend, Elizabeth, who ominously goes missing, leading to one of the mysteries at the heart of the drama. Helen Behan plays Maud's dutiful daughter, Helen, and Nell Williams is Maud's doting granddaughter, Katy."
Here is the trailer.
You can find the book HERE on Amazon.
GOOD NEWS!!  I just discovered that you can watch the whole movie on Youtube.  You can follow THIS LINK to watch.  ENJOY!!
Being I got Masterpiece I started watching… All Creatures Great and Small.  I've watched two episodes so far and they are rolling them out week by week and so far, I'm in love.  They are based on the book series of the same title by James Herriot.
I love British shows.  I time period shows so this one was a no-brainer that I would like it.  I'll be watching the rest of the episodes for sure.
Here is a little overview of the show:
"It's 1937 and Glasgow is in the grip of depression. James Herriot, fresh out of veterinary college, moves to the magnificent Yorkshire Dales for work, and soon discovers that treating the animals is as much about treating their owners."
On Netflix, I ended up watching Bridgerton.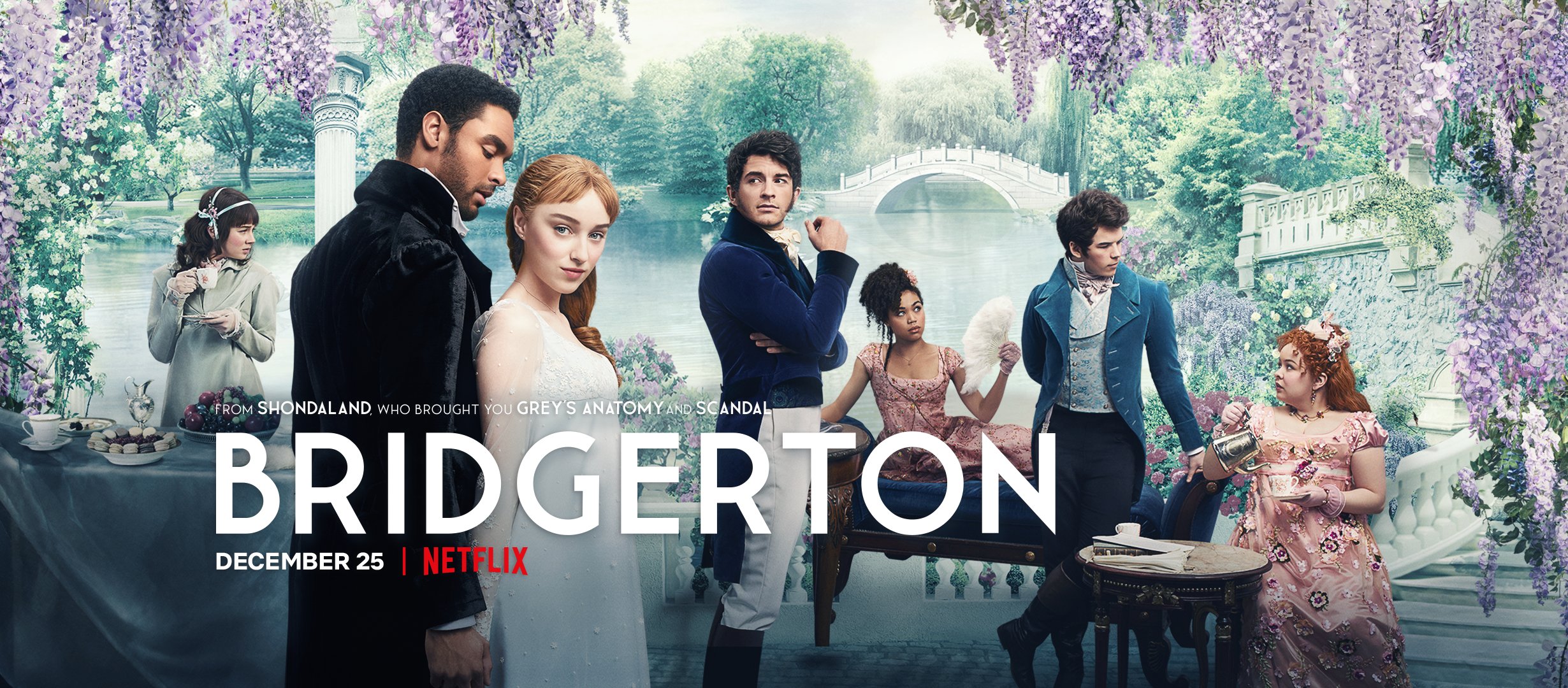 When I originally thought to watch this, I was excited.  It was a period piece that looked interesting.  It's not at all what I expected.  I think when we think of period pieces of this time, we all think of propriety and Jane Austen.  This is none of that.  This is a soap opera.  There are sex scenes.  I almost quit watching after the first episode…but then was too lazy to find something else to watch so I watched another episode and well then, I ended up watching the whole season.
Here is the synopsis:
"During the Regency era in England, eight close-knit siblings of the powerful Bridgerton family attempt to find love."
Here is the trailer…
The show is based on books by Julia Quinn.  You can find them HERE on Amazon.  There is a whole series of them which is kind of fun as that leads me to believe that there will be more seasons of Bridgerton.  Although the first episode didn't impress me, I got over it.  I just had to readjust my thinking that this is a soap opera set in early England and not Jane Austen.
Also on Netflix, I watched Last Tango in Halifax.  I have heard good things about this in the past but I've never watched it.  It's listed as a romantic comedy.  I'm not typically a romantic comedy person but this show is so cute.  I have to admit, it's really more or less a soap opera with really good scenery.

The premise of it is so cute.  Here's the description:
"This romantic comedy involves Alan Buttershaw and Celia Dawson, two 70-something widowed people. After their respective grandsons put their profiles on a popular social-networking site, the two rediscover feelings for each other similar to the ones they had many decades earlier as teenagers. Their relationship is a celebration of the power of love at any age, but it comes with obstacles — namely their families. Alan's daughter, Gillian, and Celia's daughter, Caroline, are polar opposites and, while neither would ever think about getting in the way of her parent's happiness, the situation is a bit disconcerting."
Here is the trailer.
There are four seasons on Netflix.  I heard there is a season five but I don't think the USA can get that yet.  If someone knows how to watch season five, please let me know.  I'll happily watch it.
I love Nichola Walker.  I've watched her in River
and in Unforgotten.
She was great in all of them.
Last Tango in Halifax was the right amount of fluff plus the right amount of interest to make watching it while cross-stitching perfect.
That's what I've been watching.  I've enjoyed them all and sadly, I'm done with them all so I'm back to looking for something new.  It's the downfall of watching television.