I had told you that the flu was going through the childcare.  Well early yesterday morning like by 5am…I had made several trips to the bathroom and knew that the flu bug finally caught me too.
I called off childcare, parked myself and my cross stitch on the couch and binge watched the day away.  As I am writing this, it's 8pm and honestly, I can't guarantee that I'll be up and at 'em tomorrow.  We'll have to see what the night brings.
I never sit on the couch the whole day so this was really weird for me.  Poor Ruby was confused.  She got plenty of attention though and that's all she cared about.
Here are two shows that had my attention…
The Sinner
There are two seasons of this out.  A third season will be coming.  YAHOO!  This is a USA Network original.  I watched it on Netflix.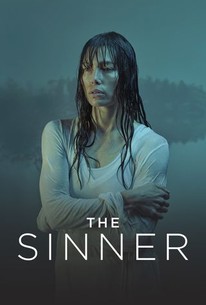 Kelli recommended that I watch this.  I watched season one first and liked it but could live without so much of the sex stuff.  It's a show that takes one crime and every episode digs viewers in a little bit more.  I've found that I really like that premise.
The first is about a gal who murders someone on the beach right in front of many witnesses.  It was almost like she had a psychotic break. Getting down to the whys of the crime had several twists and turns.
The second season is about a boy who grows up in a commune.  This one involved a sex crime but there wasn't nearly as much sex in it…one scene in the whole series…

Can you believe in one day of sitting on the couch I watched the last episode of season one and finished the entire season two.  Ah…I hate that as now I have to find a new show!!
The other show I watched was …Shetland
I have watched seasons 1-3 and loved them.  In my scrolling I found that Brit Box had more seasons…YES PLEASE.  So I signed up for Brit Box.  I had cancelled my Acorn Television subscription back in February so didn't feel one bit guilty signing on to Brit Box.
I started season 4 and am already three episodes in.  I love the show.  I love the cast…everything is really good.  It's a cop show with an ongoing mystery so I suggest watching the shows in order.
I've said this before and I'll say it 100 times.  I love British television as The characters aren't all beautiful…many have flaws.  It makes them all seem so much more realistic or "normal".
The scenery in this is awesome as it's filmed in Scotland and the actors all have the lovely Scottish accents.  I've learned to watch with the closed caption on.  It helps me a lot!!
If I got that much television watching done…imagine the cross stitch I got done.  You'll have to stop by on Monday and I'll show a couple completed projects!!
Does anyone else have Brit Box?  Is there something you recommend?