Remember over Labor Day weekend when Lucy and Scotty spent the weekend at our house.  Well Lucy likes to be held a lot and being that stage is soon ending, I held her.  We rocked LOTS in the glider.  Well a few days before that I finished the series, "The Killing" that I was watching on Netflixs and was in the market for a new series.  Being the kids were here and I wanted something a little more kid appropriate than a cop show, I remembered that I had seen an ad in my Facebook feed for a show called "A Place to Call Home".
Well after a little investigation I found out it was on Acorn TV.  Well it was $5 (or something like that) a month for this…while I was in the glider rocking anyway, I decided to check it out.  We don't get DISH or any cable service television besides Netflix so I decided it wouldn't be terrible for an extra $5.  I knew nothing about Acorn television and soon learned they specialize in British television and other foreign shows.  Ah…PERFECT.  Hubby hates it but I love everything I've watched that was British television.  So..I got it.
I started watching this…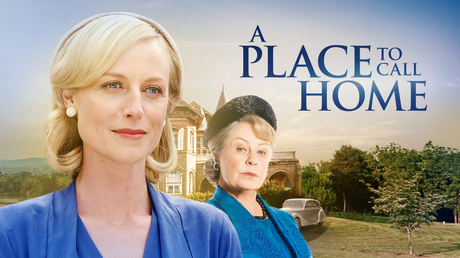 and I love it.  I love it a lot.  This is actually Australian television.  It was billed as a bit of "Downton Abbey" only in Australia and starts after WWII.
The costuming is wonderful.
I like the story lines.
I am almost done with the last season and have been picking up and working on cross stitch again lately simply so I can watch.  Can you believe this???  I like it so much that I ended up buying a Roku for my upstairs television in the sewing room so I can watch while I sew.  There are 60 episodes…I'm at about 57 now.  I am so hooked.
I remember as a kid watching "Dynasty".  This reminds me a bit of it….only not Crystal and Alexis fighting on the stairs.  Remember??
This show actually touches on some serious subjects…Women working, anti-Semitism; women's health and homophobia.
I love the mix and highly recommend it.  While writing this I looked around and am happy to say I couldn't find a bad review…and as for Acorn TV, I've checked out a few other shows and have liked them so far too.  I have no regrets at all in signing up.
I am on the hunt for a new show though…this one is sadly coming to an end.